Coffee Capsule Filling Sealing Machine ( use for Lavazza capsule) is the latest Version Machine, High speed and high quality meet EURO machine standard, this model machine is design specially for K cup/Nespresso/Lavazza blue Filling and Sealing. Its material use is better than previous machines; Components use top brand.
* The whole machine stainless steel frame; Organic glass; Four columns mould structure; Fixed castor and mobile pulley.
* Photoelectric detection the location of cup storage , If the cup storage is not enough, machine will alarm to feed cup. and machine will automatic stop without cup,
* Sensor detect drop capsule or cup, If failed drop capsule or cups, will not filling coffee, and after will be rejected.
* Coffee servo screw filling, the filling volume can be adjusted on Touch screen, no cup no filling, lack of coffee in hopper, vacuum feeder automatically open.
* Liquid Filling system. (additional) for fill different flavor into coffee.
* Automatic clean the edge of nespresso capsules ( vacuum clean)
* Automatic vacuum suck lids, No cup no Lids suck. If Lids suck fault, will automatic stop machine.
* one time Sealing for two lanes machine. Omron temperature controller to adjust the temperature. ( If you need two time sealing, will be add this functions)
* Automatic mechanical grasp the qualified cup to the conveyor belt. unqualified coffee cup does not grasp and automatic fall into the collection of waste bucket .
Details Showed as below pictures
Coffee capsules Detect--->Cutting and Sealing System
| | | |
| --- | --- | --- |
| Coffee capsules Detect | | Cutting and Sealing System |
Finished Products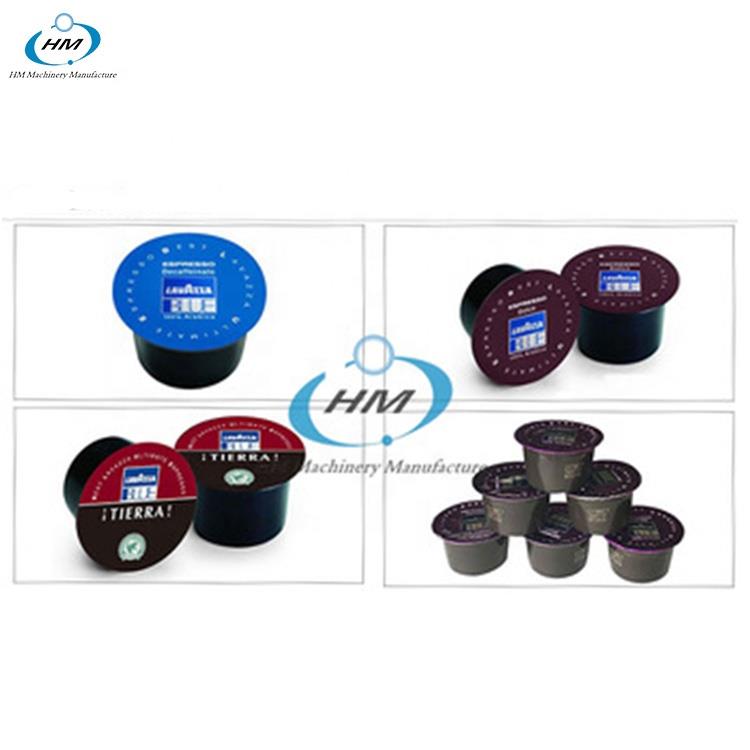 Related Video
More Details about peration and running of the machine,please check the video in Youtube@https://youtu.be/hhG7EjwoP0g
Apply
Coffee or tea company, coffee roaster, coffee shop, coffee filling and sealing machine company, food company or packing company
Send Us Inquiry to Get the Quotation
Contact Person:Linda
HM Machinery Manufacture CO.,LTD
Add: No.46 Tian fu Road, Song jiang, Shanghai , 201615
Factory Add: No.18 Ouhai, Zhejiang, China
Mobile: 0086- (0)13917470643/13181428178
Tel:0086 (21)-37632096
WhatsApp: +8613181428178
Email: hm005@hmmanufactory.com
Skype: hm005@hmmanufactory.com
Website: http://coffeemachinessupplier.com/ or http://www.hmmanufactory.com/